Movement School For Revolutionaries
Richmond Progressive Alliance, 

Saturday, June 24th, 2017
See also:
*****************
From Earth Day to May Day …and Beyond!
Friday April 21, 12 – 4 pm
Greenaction's action at EPA Office
75 Hawthorne St. in San Francisco
Click to access April-21-2017-Earth-Day-Action-for-Climate-Environmental-Justice2.pdf
Friday April 21, 6:30 – 9:30 pm
East Bay Climate Expo & Before the Flood Screening at Brower Center in Berkeley
https://www.eventbrite.com/e/east-bay-climate-action-expo-tickets-32421098378
Saturday April 22, 11 am rally with speakers
March for Science at 12:30 pm from Justin Herman Plaza to Civic Center, San Francisco
https://marchforsciencesf.com/
Sunday April 23 10 am – 5 pm
Earth Day Celebration at Gill Tract Community Farm at Marin and San Pablo Avenues, Albany
https://www.facebook.com/events/586274524898822/
Saturday April 29 – 11 am – 5 pm
Peoples Climate Movement-Bay Area — fair and rally at Lake Merritt amphitheater
http://bit.ly/peoplesmovementbayareaRSVP
Monday May 1 – 3 pm
Environmental Justice Contingent in the May Day March at Fruitvale Plaza to San Antonio Park, Oakland
https://www.facebook.com/events/1885901481694528/
Show up for the planet!
Show up for the future!
http://PeoplesClimateBayArea.org
http://Facebook.com/PeoplesClimateBayArea
*****************
MLK Day Actions:


Haiti Solidarity Rally AND Reclaim MLK's Radical Legacy March!

The Green Party of Alameda County has endorsed, and encourages you to attend, two of the Monday, January 16th events:

Haiti Solidarity Rally
10:00 am
Oakland Federal Building
1301 Clay Street, Oakland

March to Oscar Grant Plaza for MLK Day March.  Stand with the valiant people of Haiti as they resist US occupation and foreign exploitation. Heed the call for solidarity from 68 Haitian grassroots organizations!

Reclaiming King's Radical Legacy March
11:00 am
Oscar Grant Plaza
14th Street and Broadway, Oakland

The third annual march to #ReclaimMLK, also launches #120Hours of direct actions of protest and resistance leading up to the January 20th inauguration of Donald Trump.
More info is here:
https://www.indybay.org/newsitems/2017/01/02/18795059.php
https://www.facebook.com/events/1717763311842240/
https://calendar.google.com/calendar/embed?src=68pdcjhtndvmg3f3c31r90cooc@group.calendar.google.com&ctz=America/Los_Angeles

*****************

On Saturday, October 22nd at 6 pm, You Are Invited to Attend:
Jill Stein's Final Bay Area Rally!
The Berkeley City Club
2315 Durant Ave, Berkeley, California 94704

Please join us for Jill's last Bay Area Rally for 2016! Come dressed in your favorite Stein/Baraka gear & get ready to celebrate!!
SPEAKERS: 
Dr. Jill Stein, Ramy Khalil, David Cobb, Kor Element, YahNe Ndgo, A.J. Hill, and Erik Rydberg
BART: We encourage everyone to take Bart if possible. Downtown Berkeley Station is 10 short minutes away from the venue by foot.
CAR: Limited street parking & fee lots are available in the area.
DIRECTIONS: Only 1 block from campus, Berkeley City Club serves UC Berkeley for events and hotel. It has a buzzer at the door — proceed to the Second Floor, turn left for the event room, ballroom door on right hand side. This building has a downstairs theater and there will be a play in progress during our rally, so we ask attendees to be respectful with noise while entering and exiting the building. No outside food permitted at the venue. Berkeley City Club (BCC) was built in 1929 and served as a Women's Club for 36 years.
ADA compliant entrance available. Elevator on premises.
We recommend people start arriving around 5:30 pm-5:45 pm. Event starts at 6 pm.
*****************
On Thursday Evening, October 6th, You're Invited to Attend:
Revolutionary Politics, Poetry, and Music with Jill Stein!
The Chapel, 777 Valencia St, San Francisco, 6 pm
S.F. Poet Laureates
and
Green Party Supervisor candidate
Please RSVP:
https://www.eventbrite.com/e/revolutionary-politics-poetry-music-with-jill-stein-and-francisco-herrera-tickets-27869417177?ref=estw
Facebook Event Page:
https://www.facebook.com/events/177872895983442/
This event is free.  Donations to both campaigns will be collected on-site.
*****************
Rally in Berkeley with Jill Stein!
Where: Main Berkeley Post Office, 2000 Allston Way
When: Friday June 3rd, 4:30 – 5:30 pm
PRESERVATION OF BERKELEY'S MAIN POST OFFICE and other public resources in the face of privatization by high-profit corporations
DEFENSE OF UNION JOBS as USPS attempts to move postal services to Staples
WISE USE OF COMMON SPACE – Resiliance after destruction of our community information, clothing, book, plant and seed sharing center
ACCESS TO THE BERKELEY POST OFFICE COMMUNITY GARDEN -Remove the ugly metal postal police fence
SUPPORT TINY HOMES INITIATIVE and FIRST THEY CAME FOR THE HOMELESS protesters under legal attack as pro-developer politicians criminalize homelessness
PROMOTE POSTAL BANKING – no more bail outs, debt slavery, private banking fraud
POLITICAL VOICE/ACTION in the face of corporate control of government and media
Join us for MUSIC with Hali Hammer and postal worker activist Dave Welsh
And Other Speakers:
• Mike Wilson from Berkeley Post Office Defenders • Shirley Taylor, national business agent for the American Postal Workers Union • Jesse Arreguin, Berkeley City Council member, with updates on Dept of Justice threat • Update of community garden with over the fence seed ball planting • Mike Zint, from First They Came for the Homeless– direct action post office presence
https://berkeleypostofficedefenders.wordpress.com/
*****************
Give the Earth a Chance: Meet, Eat, Drink and Dance, Oct 10th
*****************
September 19 – Kshama Sawant and Chris Hedges speaking in Oakland!
Tickets are just $10 – click here!
Please join Seattle City Councilmember Kshama Sawant at a rally in Oakland for her re-election campaign! Mark your calendar now!  RSVP on Facebook
From the streets of Baltimore to the growing movement for a $15 minimum wage, consistent protests are erupting against the endemic inequality and racism generated by Wall Street and their social system. With growing anger at the corporate policies of both main political parties, millions are looking for an alternative.
Since her election in 2013, Councilmember Sawant has led the opposition to the corporate agenda in the Pacific Northwest. An unapologetic fighter for working people, she refuses all corporate donations and accepts only the average worker's wage, giving the rest of her salary back to social movements. Despite being a city councilmember, she has risked arrest in order to stand with workers fighting for a living wage in Sea-Tac and environmentalists blockading coal trains. Her re-election will inspire more oppressed people to fight for our rights, and it will prove again that it is completely possible to elect candidates who reject corporate cash.
Kshama Sawant has inspired movements across the country. That is why corporations across the country are funding her opponents' campaigns. We in the Bay Area absolutely need to support her historic re-election. She cannot get re-elected without our active support. Mark your calendar, invite your friends, and join us at this rally and fundraiser!
*****************
This Saturday, Strike Debt Bay Area Hosts a DEBTORS' ASSEMBLY in Oakland
If I owe the bank thousands, the bank owns me; but if, together, we owe the banks trillions, then we own the banks.
When: Saturday, June 6, from 2:30 to 5:00PM
Where: Omni Commons Ballroom, 4799 Shattuck Ave., Oakland (at 48th Street)
In debt? Outraged by the debt system? Join the growing resistance!
You are not a loan! Attend the 4th Strike Debt Bay Area's Debtors' Assembly!
Come to the Assembly to learn about tools for escaping the closing walls of debt, to share resources and skills, and to magnify our assembled energy. As we share our experiences we can begin to take back from the financiers what they have taken from us….. our freedom and our future.
Organized by Strike Debt Bay Area: Facebook, Website, Twitter
More information:
https://www.indybay.org/newsitems/2015/05/13/18772270.php
strike.debt.bay.area@gmail.com
Strike Debt Bay Area is affiliated with strikedebt.org, rollingjubilee.org, and debtcollective.org
*****************
Judi Bari Day is May 24
This Sunday, May 24, 2015, is the 25th anniversary of the attack on Earth First! activists Judi Bari and Darryl Cherney by car bomb in Oakland in 1990 as Redwood Summer dawned.
The Judi Bari Day event at the Berkeley U-U Fellowship Hall (1924 Cedar at Bonita) will feature special guest performer LAURIE LEWIS, legendary songwriter, fiddler and vocalist.
Doors open at 7 PM; the program begins at 7:30
After comments and updates by musician and film-maker DARRYL CHERNEY and others, the documentary film "WHO BOMBED JUDI BARI?" will be screened.
Karen Pickett will host the program, and facilitate a Q & A session after the film.
Earlier in the day on May 24, people will gather to mark the moment and place where the bomb blew up. The location is across from the intersection of E. 33rd and Park Blvd, in front of Oakland High. Gather 11:30 am—12:30 (the explosion was close to 12 noon). Bring signs, songs, drums for a speak out and commemoration.
Background:
A bomb planted in a car exploded in Oakland on May 24, 1990, injuring EF! activists Judi Bari and Darryl Cherney. Judi was nearly killed. The FBI & OPD called the pair bomb-carrying terrorists, & proceeded to smear them and Earth First! as the Redwood Summer campaign was kicked off. The activists sued the FBI & Oakland Police for violation of Constitutional rights, and 12 years later, won an unprecedented victory against the FBI and OPD. Judi died of breast cancer in 1997. The bomber was never found, but the investigation continues TO THIS DAY.
Info: bach@HeadwatersPreserve.org or 510-548-3113.
Sponsored by the Berkeley Fellowship of Unitarian-Universalists, the Bay Area Coalition for Headwaters and Earth First!
*****************
Capitalism vs. the Climate: Naomi Klein on the Need for a New Economic Model to Address the Ecological Crisis
Wednesday, Nov. 19 at 7 pm
Niebyl-Proctor Marxist Library
6501 Telegraph Ave. Oakland, CA
Join the Northern California System Change not Climate Change chapter in watching the film interview of Naomi Klein by Amy Goodman from Democracy Now (September 18, 2014).
After the film we will discuss her ideas and her recent book, THIS CHANGES EVERYTHING, by Naomi Klein.
From http://thischangeseverything.org:
"Forget everything you think you know about global warming. The really inconvenient truth is that it's not about carbon—it's about capitalism. The convenient truth is that we can seize this existential crisis to transform our failed economic system and build something radically better."
In her most provocative book yet, Naomi Klein tackles the most profound threat humanity has ever faced: the war our economic model is waging against life on earth. We have been told it's impossible to get off fossil fuels when in fact we know exactly how to do it—it just requires breaking every rule in the "free-market" playbook: reining in corporate power, rebuilding local economies, and reclaiming our democracies.
We have also been told that humanity is too greedy and selfish to rise to this challenge. In fact, all around the world, the fight for the next economy and against reckless extraction is already succeeding in ways both surprising and inspiring. Climate change, Klein argues, is a civilizational wake-up call, a powerful message delivered in the language of fires, floods, storms, and droughts. Confronting it is no longer about changing the light bulbs. It's about changing the world—before the world changes so drastically that no one is safe. 

Either we leap—or we sink.
*****************
Rally to Save the Berkeley Post Office!
https://occupyoakland.org/ai1ec_event/rally-save-berkeley-post-office/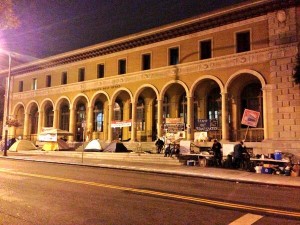 .
WHEN: Saturday, November 1, 2014 @ 10:30 am – 9:30 pm
WHERE: Downtown Berkeley Post Office steps, 2000 Allston Way, Berkeley,CA 94704
The Downtown Berkeley Post Office could be sold at any time now! Come rally to show support and plan the resistance!
[A detailed explanation of why it is now in imminent danger of being sold is at this link.]
MOBILIZATION!
      HELP STOP THE SALE!
Sat. Nov. 1, 2014 2000 Allston Way on the steps of the  
Berkeley Post Office    
It's now in contract TO BE STOLEN!
The fate of the downtown Berkeley Post Office has reached a crisis point. The transfer of the building to private ownership may be only days away. For this reason, Berkeley Post Office Defenders call for a collaborative mobilization of all those who oppose the threat of privatization. Individuals and organizations will gather to share music, establish an ongoing direct action presence, and provide updates and support for political and legal action including:
  –  An injunction to Stop the Sale
  –  Postal banking
–  Preservation of historic public property
  –  Boycott Staples profitization of postal services   
Massive Rally, 10:30 am to 12:30 pm,
1ST Action: Sponsored by Save the Berkeley Post Office

For more information please go to http://www.savethebpo.com
Jam the Sale, 1 pm till 10 pm
2nd Action: Coordinated by Berkeley Post Office Defenders,     berkeleypostofficedefenders.wordpress.com             
"Come play music! Bring instruments — including your singing voice, spoken word and dancing body. We will not allow our Post Office to be sold, and nothing can sustain persistent resistance like music. We will play until USPS stops pretending not to hear us say that our Post Office is not for sale!" You're welcome to pre-schedule at  http://tinyurl.com/mlxgpff
Direct Action Presence, (bring your pillows)
3rd Action: in Collaboration with First They Came for the Homeless
www.facebook.com/pages/First-they-came-for-the-homeless/253882908111999
 It's time to establish and support a physical presence at the Downtown Berkeley Post Office. By taking direct action to defend our public goods, we affirm our reasons for living in community by sharing our energy and resources for the benefit of all.    
*****************
NorCal People's Climate Rally
9/21/2014
*****************
EXPLODING OIL TRAINS IN FREMONT?
– Tri-City Ecology Center
*****************
Hello all,
*****************
RALPH NADER
WILL SPEAK ON THE STEPS OF THE
DOWNTOWN BERKELEY POST OFFICE
2014 Berkeley Tenants Convention
FOR IMMEDIATE RELEASE
What: 2014 Berkeley Tenants Convention
Where: 2939 Ellis Street, Berkeley – South Berkeley Senior Center
When: Sunday, JULY 13, 2014 at 1:30 PM
Info: http://berkeleytenantsconvention.net/
Contact: berkeleytenantconvention@gmail.com (510) 982-6696
There will be childcare.
Berkeley, California,
SELECT A PROGRESSIVE, PRO-TENANT RENT BOARD SLATE ON JULY 13, 2014
The Berkeley Tenants Convention will be held on Sunday, July 13th, at 1:30 pm at the South Berkeley Senior Center. All Berkeley residents are invited to this historic grassroots event, where we will select the progressive Rent Board slate for the November 2014 ballot.
Three Greens will be among the candidates who hope to get the slate endorsement of the Convention.
The Tenants Convention, also called the Berkeley Affordable Housing Convention, has selected a slate of candidates for the Rent Stabilization Board for over 20 years. In 2012, 208 residents came to the convention and cast their votes. Groups like the Green Party of Alameda, Berkeley Citizens Action and the Grey Panthers support the convention and provide screeners to rate the candidates.
In 2012, the Rent Board race was the most hotly contested since vacancy decontrol in the 1990s. The Progressive Slate was opposed by "Tenants United for Fairness," candidates funded primarily by apartment owners, realtors and executives from property management firms. In the end, three Progressive candidates and one TUFF member were elected. Following the race, several Fair Campaign Practices complaints and one lawsuit were filed.
Rents are rising all over the Bay Area, and people are finding it hard to afford housing here. More and more people are moving from San Francisco to the East Bay, accelerating the increasing cost of rentals. Renters' rights have never been more important to protect and expand. "The convention is a real community process where people come together and have a voice and a vote in selecting a strong progressive slate for the Berkeley Rent Board," said Berkeley Councilmember Jesse Arreguin.
This year there are five Rent Board Commissioner vacancies. At the convention, each aspiring commissioner will share their experience, philosophy, and goals. After everyone has spoken, the attendees will vote.
Homeowners, renters and smart landlords are invited to participate in this longstanding and unique Berkeley event, and help us find the most qualified candidates. All Berkeley residents who arrive by 2:00 pm and remain to hear candidates' speeches will be offered a ballot. Residents cannot vote by proxy.
A $10 donation is requested to help pay for the room. Childcare is provided. Those who are unable to contribute are welcome to contact us in advance to volunteer at the event or during the subsequent campaign. For more information, please contact us at berkeleytenantconvention@gmail.com or
(510) 982-6696
We are also on facebook:
https://www.facebook.com/events/1483495435199797/
www.berkeleytenantconvention.net
*****************
You are invited!
Ellen Brown and Laura Wells are scheduled to speak at events in Seaside, Richmond, Sacramento, Oakland and San Francisco between Thursday, May 22 and Monday, May 26. Hope to see you at one, or more.
Ellen Brown is the Green no-corporate-money candidate for California Treasurer on June 3, 2014, and is the author of Web of Debt and The Public Bank Solution, from Austerity to Prosperity. Ellen has a wealth of information about Public Banking (and lots of other things) and she's fun to be around!
May 22, Thursday, 7:00 pm — Seaside, CA — Candidates for State Office, presenting Cindy Sheehan for Governor, Ellen Brown for Treasurer, and Laura Wells for Controller. LOCATION: Monterey College of Law, 100 Col. Durham St., Seaside, CA, in Monterey County.
May 23, Friday, 7:00 – 9:00 pm — Richmond, CA — Green Party Candidates Night, presenting Ellen Brown for Treasurer and Laura Wells for Controller. Richmond is the biggest city in the country with a Green Party mayor. Gayle McLaughlin and her no-corporate-money colleagues stand up to Chevron and Wall Street banks. LOCATION: 1021 McDonald Ave, Richmond, CA.
May 24, Saturday, 10:00 am – 5:00 pm — Sacramento, CA — March Against Monsanto, march and rally. Speakers include Luis Rodriguez for Governor, Ellen Brown for Treasurer, and Laura Wells for Controller. Speakers, entertainment, Green Party table and more. LOCATION of rally: North Steps of the California State Capitol, Sacramento, CA.
May 25, Sunday, 6:00 – 8:00 pm — Oakland, CA — Meet-and-Greet — Laura Wells for Controller will present Ellen Brown for Treasurer, plus other candidates and officials who will be in attendance. Light snacks and light (optional) fundraising. LOCATION: RSVP to laurawells2014@gmail.com for address.
May 26, Monday, 6:00 – 9:00 pm — San Francisco, CA — SF Occupy Forum, "There Are Solutions: Hear from 5 Green Party Candidates for June 3rd Election," presenting Luis Rodriguez for Governor, Jena Goodman for Lt. Governor, Laura Wells for Controller, Ellen Brown for Treasurer, and Barry Hermanson, SF/District 12 candidate for US Congress. LOCATION: 215 Golden Gate between Hyde & Leavenworth, San Francisco.
Hope you can come! Please post and forward. See also, for your voting pleasure on June 3, 2014:
VOTER GUIDE — NO-CORPORATE-MONEY CANDIDATES
~ If corporate-financed candidates win, you don't! ~
Statewide No-Corporate-Money Candidates
Luis Rodriguez, Governor
~and~
Cindy Sheehan, Governor
Jena Goodman, Lt. Governor
~and~
Amos Johnson, Lt. Governor
David Curtis, Secretary of State
Jonathan Jaech, Attorney General
Laura Wells, Controller
Ellen Brown, Treasurer
Nathalie Hrizi, Insurance Commissioner
Congressional No-Corporate-Money Candidates
Barry Hermanson, District 12 (SF)
~and~
Frank Lara, District 12 (SF)
Michael Powelson, District 30 (LA)
Ian Sachs, District 33 (LA)
~and~
Marianne Williamson, District 33 (LA)
Howard Johnson, District 34 (LA)
California Legislature No-Corporate-Money Candidates
Jack Lindblad, State Senate (LA)
Pamela Elizondo, State Assembly, District 2 (North Counties)
Eugene Ruyle, State Assembly, District 15 (East Bay)
*****************
Laura Wells on Public Banking: Updates on Postal Banking and the Post Office Predicament (3/29)
Saturday March 29
12:00 PM – 3:00 PM
Downtown Berkeley Post Office
2000 Allston Way, Berkeley, CA
At noon on Saturday March 29th, Laura Wells, candidate for California State Controller, endorsed by the Green Party of California, will speak on the issue of public banking. She will be followed by comments on recent happenings around the possibility of Post Office banking and financial services, updates on where things stand with the (possibly imminent) sale of the Berkeley Post Office, the campaign against the outsourcing of Post Office jobs to Staples, music, letter-writing and more.
The first item in Wells' platform is
Implement a Publicly-Owned State Bank for California
Determine the best option or options for a successful implementation of a State Bank, and get started on it. Day one. 
Come eat at the Farmer's Market a block away, join us, get caught up, and enjoy a beautiful Spring day in Berkeley.
Music by Hali Hammer & Dave Welsh.
Other updates about efforts to save our Post Office:
~  March 11 hearing with the Advisory Council on Historic Preservation.

~  Status of the proposed Zoning Overlay Ordinance.

~  Protests at Staples Stores, ongoing.

~  Congresswoman Barbara Lee's proposed moratorium on selling historic Post Offices.

~  Legal actions, and invoices outstanding. Plans for a lawsuit. ~  Bring your lunch.
Sponsored by Berkeley Post Office Defenders.
Sat (3/22): Tom Neilson, Music for Social Change in Redwood City
Award winning song-writer, Tom Neilson brings his satire and social commentary to the Redwood City UU on Saturday, March 22 at  8:00 PM.  Tom will be performing songs of wit and poignancy, to include autobiographical sketches you won't want to miss. Come hear his takes on same sex marriage, contraception, lost love, alternative love, distance love, environmental love, human rights love, a love for peace, and more.
Tom is known for decades of peace and justice work and has converted these experiences into 21 awards and nominations to include a 2011 IMA Song of the Year Award, winning at the Kerrville and South Florida Folk Festivals, JPF International awards for songs and CDs, MASC Silver Award, plus four songs at number 1 on the Soundclick music charts.   He has performed in 21 countries on 5 continents, and his music has been used in 9 documentaries and numerous stage and street theater productions.
.
The Unitarian Universalist Fellowship is located at 2124 Brewster, Redwood City
.
What are others have said about him:
"Politically cutting-edge, incisive, warm, & very funny; Raucous political satire &, quick wit; had everyone laughing & engaged." — Cathy Gilbert, Miami Greens
Your Green Party of San Mateo County Council
*****************
A Special Evening with Luis Rodriguez and Laura Wells
Thursday, Feb. 6th, 2014
More info about them is on their website:
Please remember to bring your checkbook!
At Laura Wells' community house, 351 Santa Clara Ave, Oakland
Tuesday Rally in Oakland: Governor Brown, Don't Frack California
(message from Zack Malitz, Campaign Manager, CREDO Action from Working Assets)
Governor Brown's administration is holding hearings on a study of fracking's risks to California. CREDO and our allies are organizing a rally at Tuesday's hearing in Oakland to call on the governor to stop fracking California.
What: Rally and Hearing to tell Governor Brown: Don't Frack California!
When: Tuesday, December 10th. Rally at 5:30 p.m., Hearing from 4 p.m. – 8 p.m.
Where: Oakland Convention Center, 550 10th Street, Oakland, CA 94607
This Tuesday, we have a major opportunity to mobilize and pressure Governor Brown to ban fracking in California.
Governor Brown's administration is holding a public hearing on its planned environmental study of the risks that fracking poses to California. We're working with our allies to organize a rally outside of the hearing to make it clear that we're opposed to fracking in California.
Unfortunately, Governor Brown has put the cart before the horse in deciding whether to frack California. Instead of waiting for the state to study the risks posed by fracking, Governor Brown has allowed fracking to expand unchecked before we have any assurance that it is safe.
It's bad enough that Governor Brown's proposed fracking regulations will not protect California communities or the climate from fracking.1 That these regulations will be completed before the state finishes studying fracking is downright reckless and a shocking about-face for Governor Brown, who has built his legacy in part on being an environmental champion.
For info see: Lauren Sommer, "What California's New Fracking Rules Would Do (And Not Do)," KQED, November 15, 2013
Join us in San Francisco to rally and march in solidarity with the huge Forward on Climate demonstration in Washington DC. Both events February 17.
Join over 50 organizations and thousands of citizens to encircle the State Department Office at One Market Plaza and: Demand that the State Department reject Keystone XL permit!